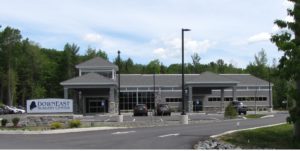 The DOWNEAST Surgery Center (DESC) is an outpatient surgery center conveniently located in Bangor, Maine, a community best known for its small-town charm and special quality of life.
DESC is owned and operated by local physicians who are committed to the delivery of state of the art care to our residents and to the surrounding communities.
Our highly specialized, fellowship trained, board certified physicians are experienced in the latest diagnostic techniques and treatment options available.
Specialty surgical procedures performed at DOWNEAST Surgery Center include orthopedic and plastic.
At DESC you will be treated with respect, consideration and dignity. You will enjoy surgical care using the latest advances in technology in a friendly, comfortable, caring environment through a highly-skilled, friendly and compassionate staff. We are confident that you will have the very best surgical experience possible.
Visit the DOWNEAST Surgery Center here